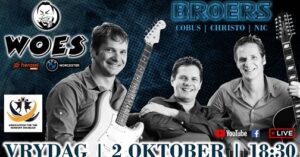 Wat 'n heerlike kuier was dit nou saam met Jaco van Dyk, Hamilton Wessels en natuurlik Die Broers op Vrydag 2 Oktober! Ons voete het behoorlik gejuk van die lekker musiek en die kykers se kommentaar het ons laat skater lag!
Die kinders en personeel van ASD Sean Kelly Sentrums wil elkeen bedank vir die bydrae tot 'n suksesvolle fondsinsamelingsprojek.
Groot dank aan die volgende persone en instansies wat die platform geborg het deur te adverteer en/of lootjie items en opwindende veiling items te skenk.
WOES 41 ADVERTEERDERS:
Coast 2 Coast Tours & 4×4 Vehicle hire
André Opperman Oogkundiges
Du Toit Van Tonder Associates
7StarsEnergy South Africa
M&N Bakwerke
Afrimat Readymix Inland
Brandwacht Besproeiing
Strydom Le Roux Accountants
Witels Verhuring
Capital Security Services Worcester – Head Office
Goudini Brandblussers
Belting Supply Services
WOES 41 LOOTJIE BORGE:
Rodlyn's
Debonairs Pizza (Official)
Rudi Strydom
Nita du Toit
Elani van Breda
Worcester Shopfitters
Laetitia Hugo Fisioterapeute/Physiotherapists
WOES 41 BORGE VAN VEILING ITEMS:
Worcester Golf & Country Club
The Habit Guest House – Worcester
Kokerboom Restaurant and cocktail bar
@EaglesCliffWineCellar
Arrie du Toit
ASD Sean Kelly Sentrums is baie dankbaar vir elke persoon wat die aand moontlik gemaak het en ook deelgeneem het. Julle maak dit moontlik dat ons die broodnodige dienste aan ons kinders kan lewer tydens hierdie onsekere finansiële tye.
*** We stay stronger together ***
Kyk gerus uit vir ons volgende WOES vertoning op 20 November 2020. Indien u wil deel wees deur 'n advertensie te plaas of items te borg vir die lotte en/of lootjies, kan u kontak maak by asd@mweb.co.za.