Providing care to sensory multi-disabled children in an integrated day-care facility
Association for the Sensory Disabled
Get Involved
Our Services
We strive to improve the quality of life of all sensory disabled people in the community irrespective of age, race, sex, religion or background.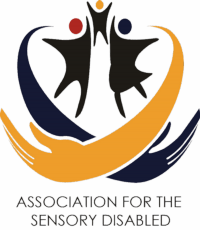 We provide

support and information

to

sensory disabled people

and their

family members, relatives, friends

or any persons dealing with sensory disabled people or expressing an interest in such information.
We

promote awareness

of the

difficulties

facing

sensory disabled people

in the community.
We initiate

projects and activities

involving the

sensory disabled

.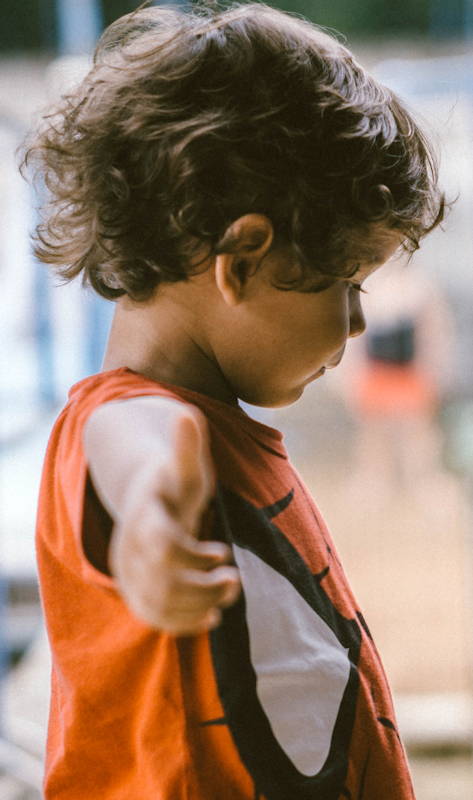 At the ASD, we commit to the care of children who are sensory multi-disabled and who come from the impoverished rural communities of Worcester in the heart of the Breede Valley, Western Cape.
ASD is registered in terms of South Africa's Non-Profit Directorate and is managed by a management committee, consisting of members of the public, social workers, people who have experience of multi-disabled children, and/or who are parents of multi-disabled children.
The Association serves all ages, sexes, religions, races and backgrounds. In order to avoid situations where children are left alone at home without stimulation and a chance to develop, ASD started a training and service centre in April 2004. Today 44 children are enrolled at the Sean J Kelly Centre and 12 children are housed in the recently established group home; a care facility that makes provision for multi-disabled children in need of 24-hours care services.
The Association for the Sensory Disabled (ASD) is an independent, non-governmental organisation that operates within the paradigm of the past and future role of parents of children with disabilities within the context of special- needs care and education.
We make it a reality for children with special needs [sensory disabled] to be taken care of in a safe environment, to learn and develop; and to attain their full potential as is possible within their set of circumstances.  We assert that children with special needs could learn, indeed have a right to education, and we foster trust-based parent–professional partnerships.
Using the past as a prelude to the future, we programme is based on two aspirations for the future:
to foster empathy, compassion, and dignity within a safe, caring environment; and
 to "get a life" rather than just "get an education."
Our key objective is to offer a caring environment where empathy, compassion, and dignity abound and where, as a consequence, children with disabilities can experience a complete, fulfilled lifespan.
MISSION STATEMENT
To provide care to sensory multi – disabled children in a day – care facility through one-on-one intervention.

To ensure that all our clients have access to assistive devices.

To promote awareness of the plight facing severely disabled persons and their families in our community
VISION STATEMENT
ASD would like to continue providing residential care to disabled destitute children.

We would like to obtain our own premises where all our services could be delivered.

Continue to make a difference in the lives of the children and families we serve.
Get Involved
How to help us
​       DONATE
What are the sponsorship benefits to you and/ or your company?
Upon every donation you will receive a personalized thank you letter.
A Section 18A Tax Certificate will also be issued to you in order to claim back from SARS.
Recognition will be given to you on our website and social networks.
Your company logo will appear on our website.
Articles will be placed in our newsletter.
Press releases will be published in the local media with regards to larger projects.
The Association for the Sensory Disabled [ASD] comprises two homes – a Day-care Centre and the Sean Kelly Group Home.  The Day-care Centre accommodates  (5 -18years male and female) and the Sean Kelly Group Home accommodates 23 children (14-21years male and female).
Please HELP us to meet our NEEDS to take care of these disabled children by donating either –
A financial lumpsum;
Sponsoring a child for a month or a year;
Donating in kind:  Donating specific items that we use on a regular basis or
Volunteer Programme: Offering some of your time and skills to renovate our buildings.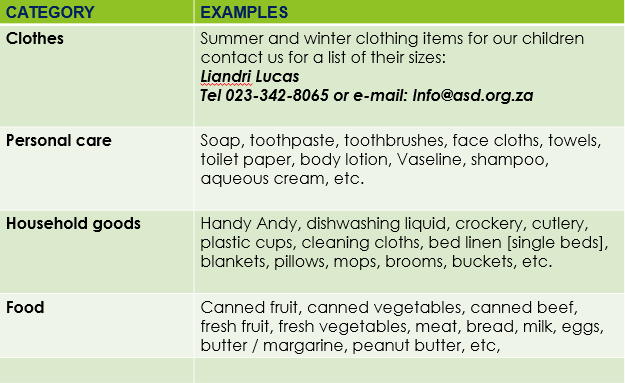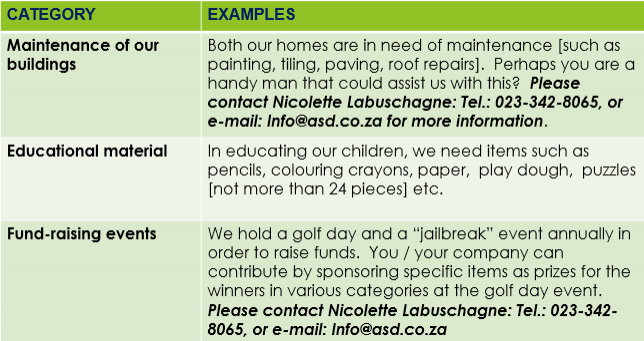 You can make a direct deposit or EFT payment into the ASD bank account. The banking details are as follows:

Please use your telephone or mobile phone number as reference. This will enable us to cross-reference and register your sponsorship / donation.  Please contact Sophie Burger [Tel: 023-342 7939 – finance@asd.org.za] should you need any assistance with this.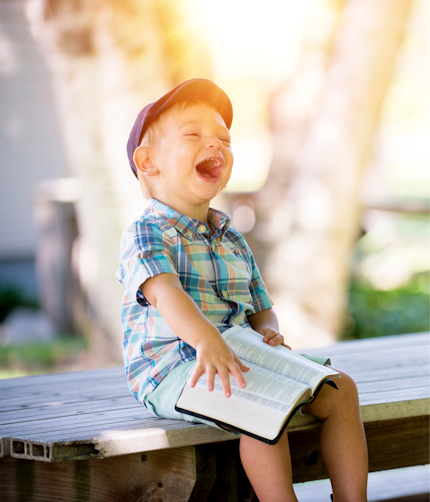 ​     

CORPORATE SPONSORSHIP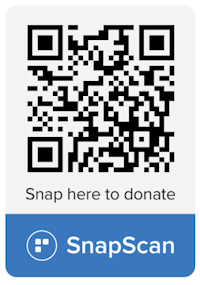 I would like to sponsor / make a donation to the ASD:
Our Team
BOARD MEMBERS
Andries Burger – Chairperson
Glen Harvie – Vice Chairperson
Aneen Peek – Secretary
Jean Mattheus – Treasurer
---
MEMBERS
Nicolette Labuschagne – General Manager
Chantel van Belkum – Social Worker
Liandri Lucas – Group Home Supervisor
Naomi Baron – Day-Care Supervisor
Association for the Sensory Disabled
Tel: 023 3428065 / 023 3427939
E=mail: info@asd.org.za